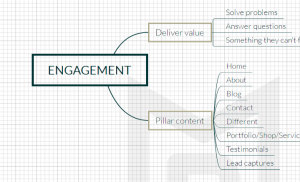 I published the Attention Element previously. Getting your ideal clients' and customers' attention is the first needed step to any effective campaign of course. And the Attention Element of the Bulletproof Revenue Model breaks down exactly how to do this.
But this is not the whole story. So many businesses and professionals out there are great at getting people's attention. But then what? What do you do with someone's attention after you have it? You need to have a plan to make sure you honor and respect someone's time and provide value in the most strategic way possible.
Two questions come to the mind of any potential new customer or client of yours. Am I in the right place? Am I going to find what I'm looking for here?
If you can properly demonstrate value and address these concerns, you have a shot at earning their business. The Attention Element gets you up to the door. The Engagement Element gets the door opened for you to come inside.
Importantly, we still haven't closed a deal. This is our at bat. This Engagement Element is what gives you a shot at earning their business.
Download the Engagement Element here.
Download and print this Engagement Element so you can see each component of the strategy in detail. As soon as I have each element of the strategy published for you here, I'll be following with in-depth explanation of each.
Keep the questions and feedback coming! I'm excited to share these concepts with you. This strategy will make all the difference in the world to your marketing efforts if you apply it. Talk more soon!